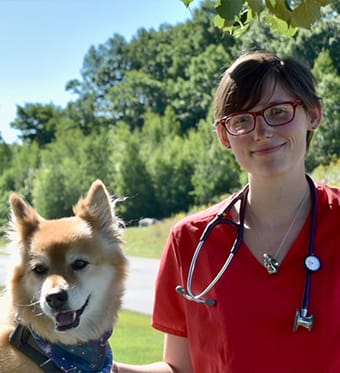 Dr. Taylor Fish
Dr. Fish has previously worked as a technician and reception in the past at other practices before joining Wachusett Animal Hospital as a veterinarian. 
She is most passionate about preventive and community medicine. Dental hygiene and heartworm prevention are also very important to her.
In 2022, she graduated from the Cummings School of Veterinary Medicine at Tufts University. She also holds a BS in Pre-Veterinary Science, an AS in Veterinary Technology, and a minor in Animal Behavior from Becker College (now closed). 
Dr. Fish discovered a passion for animals as a child and has wanted to be a veterinarian since. She loved looking through her mother's medical textbooks as a student in nursing school. Being a veterinarian was the only career she truly considered. 
Currently, Dr. Fish's only pet is an Australian Shepherd mix named Sadie, who was adopted from a pound in North Carolina and required treatment for heartworm.
Sadie has also required several dental procedures, including multiple extractions (this is why Dr. Fish is so passionate about tooth brushing). 
Dr. Fish also plans to add a crested gecko to her pet family when she has the space at home. Her dream dog is a Borzoi. 
In her spare time, Dr. Fish loves to draw and paint portraits, go for nature walks with her family, play video games and read.  
Welcoming Cats & Dogs to Our Animal Hospital
Wachusett Animal Hospital and Pet Retreat is accepting new patients! Our experienced vets are passionate about the health of Westminster companion animals. Get in touch today to book your pet's first appointment.