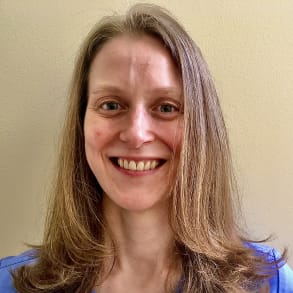 Dr. Julie Butler
Dr. Julie Butler has known that she wanted to work with animals ever since she uttered her very first word as a child – 'kitty'. She grew up in New England and began working at a small animal hospital during her senior year of high school.
She graduated from Brandeis University in 2004 with a Bachelor of Science degree in Biology and Neuroscience and worked as a veterinary technician for several years before moving to Philadelphia for graduate school. After graduating with a Master of Laboratory Animal Science degree from Drexel University College of Medicine in 2011, Dr. Butler attended the University of Pennsylvania School of Veterinary Medicine and earned her Veterinariae Medicinae Doctoris degree in 2015.
Following graduation, Dr. Butler returned to New England and joined the WAHPR team. Her professional interests include general surgery and feline medicine.
Dr. Butler enjoys listening to music and attending live concerts, walking for exercise and pleasure, and rooting for Boston and New England sports teams as well as spending time at home with her best feline friend, Buster Babili, who enjoys eating, catching (toy) mice, purring, and sleeping.
Welcoming Cats & Dogs to Our Animal Hospital
Wachusett Animal Hospital and Pet Retreat is accepting new patients! Our experienced vets are passionate about the health of Westminster companion animals. Get in touch today to book your pet's first appointment.