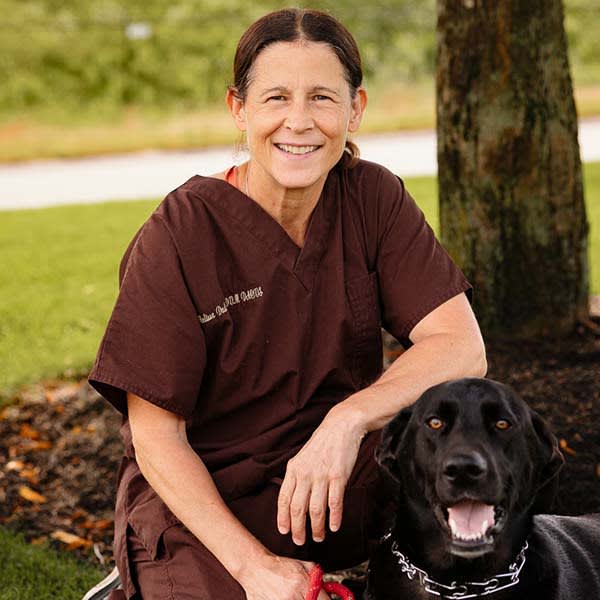 Dr. Melissa Dudley
Dr. Dudley is a board-certified surgeon who has gained more than twenty years of experience in private referral veterinary practice. Before opening her own surgical center, she proudly developed a surgery program at a large New Hampshire referral hospital.
She grew up in New Hampshire before moving to Massachusetts. She spent many years in Northboro, MA practicing veterinary medicine before eventually making her way back to NH to be closer to family.
She has a special interest in stifle and oncologic surgery and performs a wide range of surgical procedures, including but not limited to the following:
Brachycephalic airway surgery, laryngeal paralysis surgery, lung lobectomy.
Gastrointestinal surgery, extrahepatic portosystemic liver shunt surgery, nephrectomy, cystotomy, urethrostomy, splenectomy, liver lobectomy, thyroidectomy.
TPLO, FHO, patellar luxation surgery, fracture fixation, hip luxation surgery, mandibulectomy, maxillectomy.
Mass removals, amputations, reconstructive surgery, extensive wound care, and more.
Dr. Dudley is committed to providing consultations and surgical procedures with minimal wait times. She is available to consult on any surgical cases presented to our animal hospital and will review radiographs as requested. Her hope is to help ensure a timely and seamless experience for all clients and their pets.
She has recently returned to Central Massachusetts, an area that she loves. In her free time, she enjoys hiking in the woods with her dogs as well as bicycling on the back roads of Princeton and Westminster.
Welcoming Cats & Dogs to Our Animal Hospital
Wachusett Animal Hospital and Pet Retreat is accepting new patients! Our experienced vets are passionate about the health of Westminster companion animals. Get in touch today to book your pet's first appointment.